Here's a
good kickstart for beginners
, where everything one needs is included.
Ibanez GRX 70DX J
Package includes:

- Ibanez GRX70DX electric guitar
- Ibanez 10 watts guitar amp
- Ibanez Electronic Tuner (batteries included)
- Ibanez Gig bag
- Ibanez Guitar strap
- 5 Picks
- Cables
- Accessories Pouch
As usual, ibanez
slim neck 22 frets GRX
series for better and easier playability, with
H-S-H configuration pickups
for a more variety of sound. Top of that, the guitar comes with
Sharktooth inlays
and no pickguard.
Superstrat
:D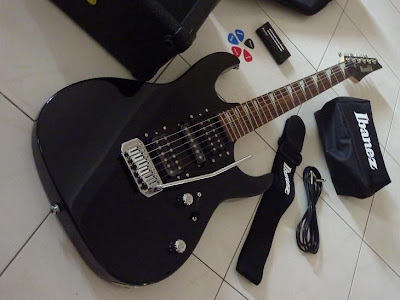 No worries bout running out of tune, u got
the tuner
on the go with you.
Missing picks? They're
5 of them
alright
Ibanez 10 watts amp
which is suitable for
bed room prac
tice, loud enough for practice and
not disturbing the rest of the house members
. Allow user to play
both clean and distortion
by cranking up the gain.
Everything as a beginner need is all here
. No hassle on getting the guitar, then an amp, then a gig bag and such.
So what do you say?
A good buy for beginner
?
Well, it definitely is!
Comes in
3 color finishing
:
Black, Blue and Red