The Taylor College Charity Carnival, where stores were setup to sell some stuff. I was there to help out my buddy
Clement of Music Master
on his booth.
The manager,
Clement aka Gapnap
mou. Sorry, only got pic of his back :p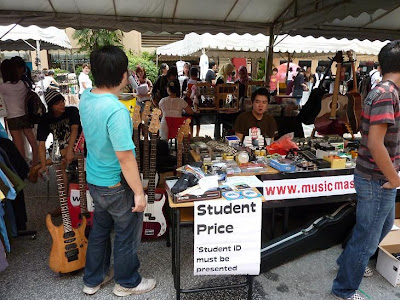 Music Master
was pawning over the event (for musicical instruments and accessories)
as
CK Music
was there too, but not much stuff were on display though.
Business looking good, 'Sam, got spare change mou?!'
'Sam, put the amp over there please. Dont keep playing
tornado of souls solo
, chicks here wont like it!'
The event was quite a success, many people were there of various age, including students and working people. And of coz, many people come test guitars as well, even
an uncle was a shredder
! Guess shredders are everywhere nowadays.
Celcom
held an event there, and that's like the best during the morning session, where everyone gather to watch various performances by
Taylor College students
and others as well.
So this is some
dude dancing
gracefully, but too bad i couldnt get shots of him dancing. Too many people around blocking me!!
And next, the
Ronan Keating
dude,
When You Said Nothing At All
.....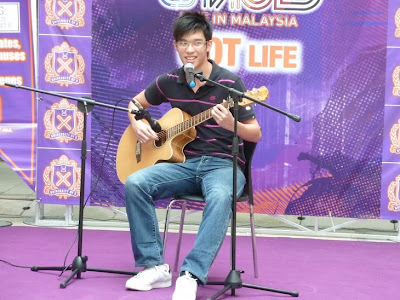 Songs like this, and with a
simple acoustic guitar
is gonna
melt the girls' crowd.
Halfway Promo: So guys, wut are u all waiting for? get yourself an
Acoustic Guitar
today! Just call or text me anytime, email are also welcomed :p
Taylor Swift and some rockstar
! This 3 piece band performaned the famous
Love Story
song by Taylor Swift. well, alot paused in the song. but still, good try guys!
'Romeo take me somewhere
we can be alone
, i'll be waiting all there's left to do is run...'
and finally, the girl who covered Leona Lewis song, was the best among all (well, at least for me). Great singing u got there!
Another event was competing eating banana the fastest. I tink the dude ate the skin as well.
Macam macam la things for sale. Food, drinks,
optimus prime drink
, clothing, musical stuff (
music master mouu
), and also booth for clubs signup for
Taylor
students. Soft toys are available as well, OMG!! They're so cute, haha....
'Nice to
see
, nice to
smell
, nice to
squeeze
' err... they sounded so wrong to me. First u see, then u smell, and u squeeze it!!
I dont know what's this la, some random pics, since it's next to
Music Master's
booth.
Sky adventure
anyone?
One of the
Guitar Hero of the day
. Too bad the another hero was far asleep at home, coz too busy practicing his
licks
at home during the night.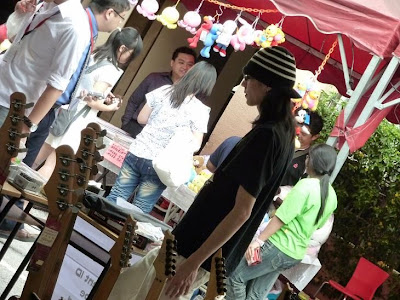 Another random pic of the day.
One of the
hottest event of the day
, where all the crowds were cheering and screaming madly. well, how can the girls resist? some
leng chai
is going to perfom. And, when i mean
hot
, i meant the weather is really
damn HOT
!!
Dancing open air at 3pm
, how hot can it be?
Wow, chick mc (one of the dancer too)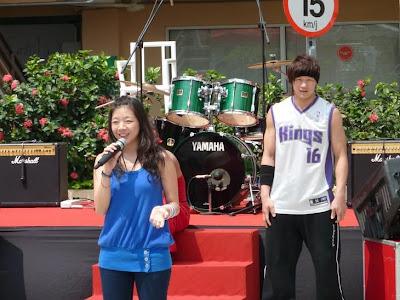 B-boys
, and i tink one of the dude's name is Jerry. correct me if i'm wrong. They seems
famous
, as everyone knows their names
Wahhh lauuu!! one hand support the whole body, and u see that
six pack
?! Dont worry dont worry, playing guitar will build u muscle as well, see
Petrucci and Chris Broderick
:p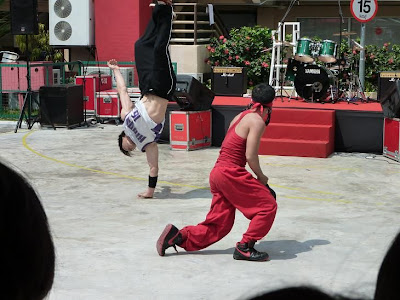 Acrobat
anyone?
Kids,
dont try this at home
Macha oso need some rest, and
coke is the best
Wow,
Ibanez Rg2550
. Ibanez confirm
shredder
la, but i didnt see him performing.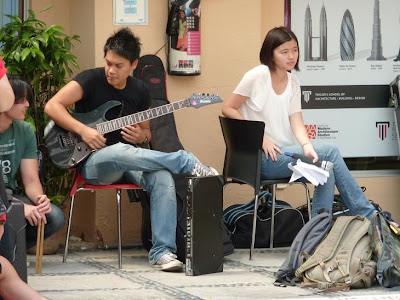 This is what u guys have all been waiting for....
CHICKS!!
yes, they are tons of chicks in this event!
Celcom's chick
, wow..
She's HOT!
:p
And next, dancing chicks!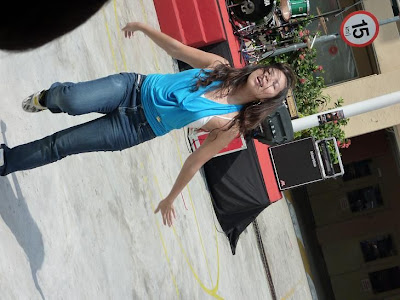 This dance damn nice la, the guy and the girl
dance together
. But i dunno, the girl seems to
smile and giggle
while dancing. So happy hor, hehehe..
And to end the dance, where the
whole crowd CHEERED
!!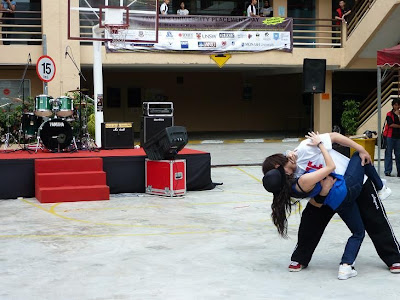 Here's another hot chick. Ya, only this caught
Sam's attention
. But too bad la,
Mrs Sam
is right beside him, eyes cannot turn around much :P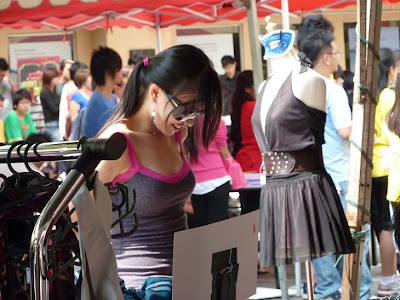 Last, the
Celcom chicks
!
Thanks for the pics girls
!