Metal band Live at The Curve
, this somehow amazed me! and for sure, all metal fans as well :D (can someone help me out with the name of this band?)
sorry, i cant get it though it was announced :(
Metal up guys, the music is
going to begin
!
Man this attracts me alot (for I myself a
metal-lover
) hearing all those riffs, solos and most of all,
DOUBLE PEDAL drumming
! The band consists of 4 members, which i remembered correctly, the 'tai kor' of the band, bassist formally of SEARCH and RITZ of Metalasia fame taking the lead guitar parts. Sadly, Ritz didnt make it to the scene that night, and was replaced by some live sessionist.
The Front man
:
The Bassist
:
The stand in live guitarist
:
(when i heard that Ritz was the lead guitarist of the band but was unable to perform that night, it was a slight let down, as being a fan of
metalasia
.... but this stand in guy was great, no doubt. soloing gila babi terror!)
The Drummer
: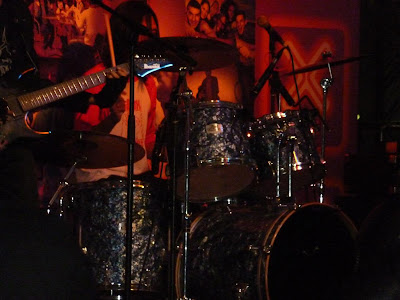 ARGGHH!!! i couldnt get a clearer pic of the drummer. that's the sad part of being drummer, less being noticed
SHOW TIME!
SOLO!
YES YES! MY BEST PART OF THE ENTIRE SONG!
Man i like this part alot. i always like seeing the guitarist
dual solo
together. Angra mou!
Hmm, i noticed the guitarist's guitars doesnt have a label.
Ibanez Jem
lookalike without the Ibanez logo,
Fender Strat
lookalike without Fender logo.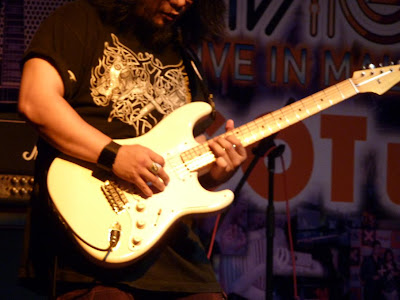 Mr Bassist looks like
Nevermore drummer, Van Williams
, to me :D
And so the song comes to an end, where the band played 2 songs, which 1 is heavy and the other is slightly lighter.
Good show guys
!! Looking forward to see more of your stuff!