The
workshop was great
, and it was nice to see
Zakk Wylde in person
.
He's such a
nice and humble guy
, without letting any fans down. Cant believe for such a big guy eh? :p
Everything was
kinda rush
, as we were only
informed bout his workshop like a week only
. Not much preperation can be made. Sorry for those who cant make it due to the lack of time :(
Anyhow, here are
some pictures
. Enjoy~
Zakk Wylde signature models
were placed up. Yeah, including the new
Gibson Zakk Wylde BFG
(which only managed to arrive
2 hours
before the workshop). And somehow, the Epiphone ZV custom finishing is different from wut is shown from
Epiphone.com.
I like this better,
the burst tone
. Make it looks
more expensive
:p
The
models
that i have for the
Zakk Wylde Workshop
program.
Thanks for those who purchased it!!
And a bunch of Gibson Zakk Wylde signature, including
Zakk Wylde Camo Les Paul Custom
and
Zakk Wylde Bullseye Les Paul Custom Shop
(one in the world which is signed!)
The wall of
ZV Customs
and
BFGs

The
workshop hall
. Nice bike :p So i was thinking,
Laney amps
? I thought there were supposed to be
Marshalls

And behold, I present to you, the
lead guitarist
and
vocals
for
Black Label Society
,
ZAKK WYLDE!
With his prototype
Epiphone Graveyard Disciple
, dark silver finishing with a cross mark. An awesome guitar! If u noticed, now it's
Marshall AVT amp
:p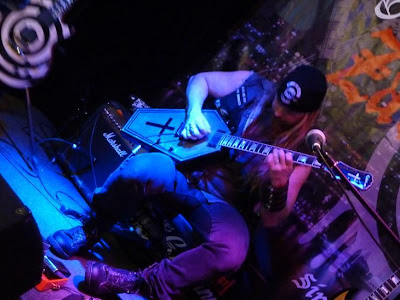 Zakk Wylde
and
his manager
while using his
Gibson ZV Custom Buzzsaw
Zakk Wylde and his wife,
Barbaranne. Swee Lee
staff are busy taking lots of Zakk Wylde guitars to be signed by the man. Well, this is the first time Zakk Wylde hitting
Singapore
as well as
South East Asia
:D
The Epiphone ZV Custom.
For the person
, you know who's guitar this is :p
THANKS FOR THE SUPPORT!

Zakk Wylde, his wire, his manager and
Gibson Singapore
representative.
Gibson
Zakk Wylde Bullseye Les Paul Customshop
. The very
one in the world which is signed!
Anyone
open for the grab
? Price is
reasonable
:p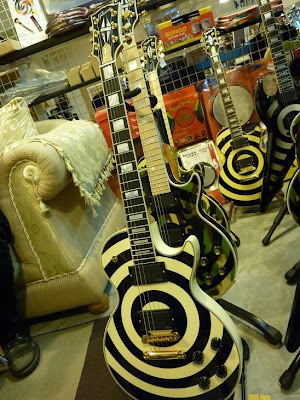 The very few ZV Custom which is signed on the top. And yes, u know who's guitar is this (again). Enjoy the guitar :p
Fans are now allowed into the hall
, and things are going a
little wild
. Everyone is getting
impatient waiting for Wylde
to show up.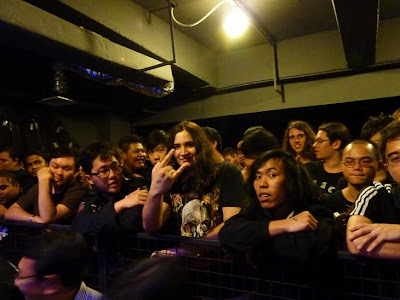 Gibson ZV Custom Buzzsaw
(and
Zakk's Signature Bike
)
As
Wylde enters the workshop
, the crowd begins
to go wild
!
A
little drink
before the show begin. Need
some boost perhaps
And now the music begin, where Wylde starting to
shred on the Graveyard Disciple!
Man i cant imagine seeing him playing right in front of my eyes! It was so
AWESOME!!
I bet it goes the same way to u right
DEV
? :p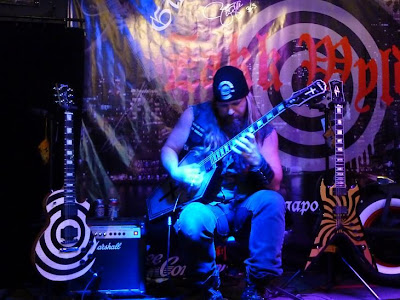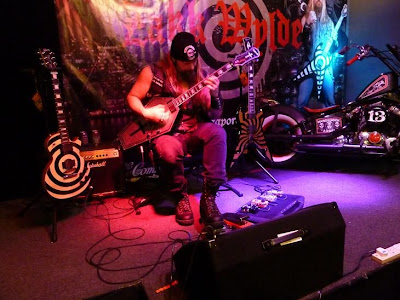 A toast to all the fans!
Question and Answer session
. Many questions were asked, including some weird ones, haha.. There's even
one hero shouted
, "Stop the Q&A and get on with the shredding!!' Wow, that's wut
everyone's been wanting
! :p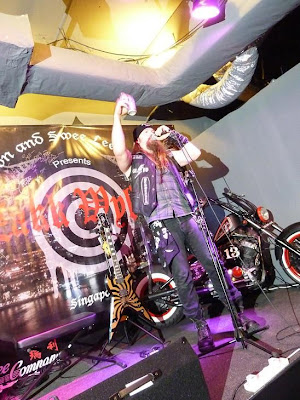 One of the question was about
Dimebag Darrell
. Zakk had a
deep thought
, and then started telling stories bout it. I'm sure he's sad recalling the memories of
his good buddy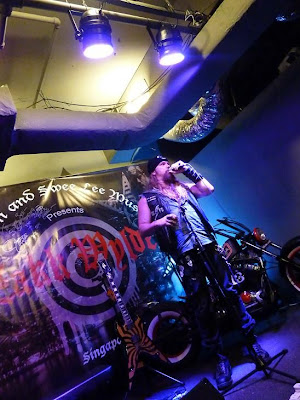 A quick shot on the
Prototype Epiphone Graveyard Disciple
. Man this guitar really kick ass!!
Short break for Zakk
before the signing session
. There are like
more than 200 fans
waiting to get his autograph
Pictures of
autograph session
. Well, lots of
weird places to sign
. Handphone, wallet, shirt, pants and there goes the list. But still, nobody really did some
super crazy stuff
yet :p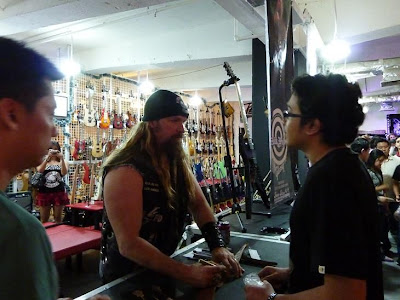 The
Epiphone ZV Custom signed
, comes with a purchase
certificate signed by Zakk Wylde
with the
buyer's name imprinted
. Ultra RARE!
The
Swee Lee Katong Branch Crews
who made this event a success,
lead by Andy
. Great job guys! And they were fast placing up the freshly arrived
Gibson Zakk Wylde BFG
just less than 2 hours :p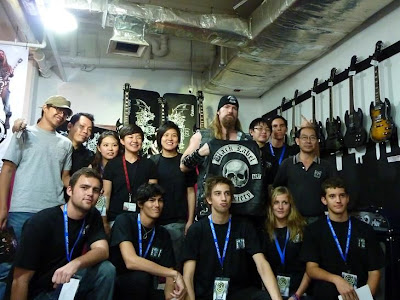 Dinner with Wylde and the crew
after everything. The autograph session was a
long queue
, which
dinner turn supper
. Zakk's such a
nice guy
, not turning any fans down and keeping signing as long as the
queue hasnt come to an end
Happy Zakk
after a
great meal
:p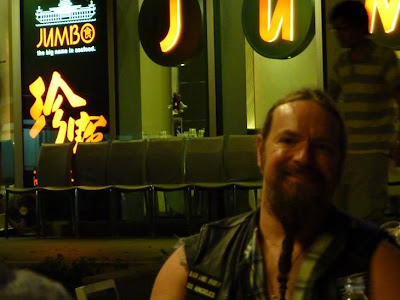 And the
best FAN award
goes to this dude.
Dressed up
almost to Zakk, a huge Black Label Society fan, with
his girlfriend also dressing up
the same. Nice work guys!! :p
The
HAPPIEST man
on earth, with his
Greatest Idol
, and his
ZV Custom
! :p
Finally, thanks for everything guys!
Thanks for all the support on DeadEye Guitars!!