Ho Ho Ho!
Dead Eye Guitars
wishing all customers and friends a
Merry Christmas
!
Sorry for late reply on forums, emails, sms and such. Been busy working part time as
'santa claus'
delivering
presents
from home to home. If u know wut i mean :p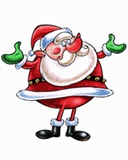 Have a
wonderful christmas
everyone! And hope u enjoy the
gears that you've bought from me
throughout the year!